Events
Memorial Day Poetry Reading & Teachings
Free (suggested donations) & online via Zoom
Click this flyer to register: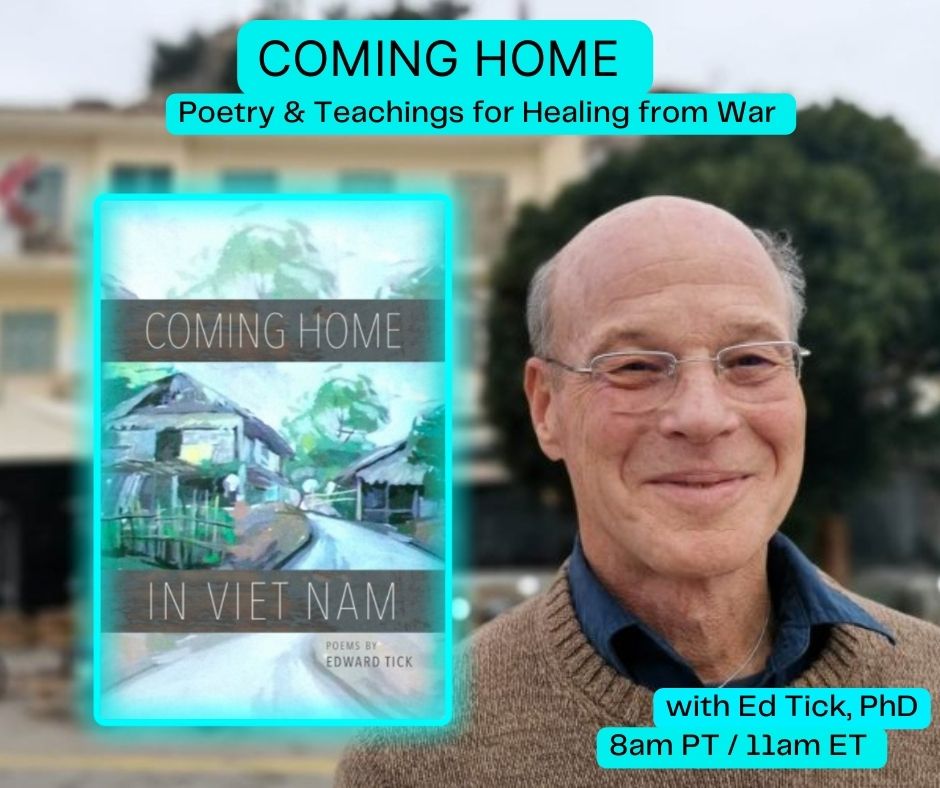 Memorial Day is a sacred day of remembrance of all losses from all wars. Please join me next week, on Memorial Day Monday, May 29, to commemorate, grieve, honor, share, and make meaning from all of our experiences of war and its losses. I will offer a free event of relevant poems and teachings on Zoom @ 8am PT / 10am CT / 11am ET. We will honor all warriors, activists, and families, and focus especially on how our veterans and the Vietnamese memorialize and heal together during our reconciliation journeys there.
This event will include poems from my latest book of poetry Coming Home In Viet Nam. We welcome memorial donations to our Mother Pig Project that is restoring husbandry and hope to an impoverished Vietnamese village in the Central Highlands. Pregnant sows cost $250 each and we have already delivered three dozen. Some families donate an entire pig and name it for their loved one. Any amount is welcomed and helpful. You can donate HERE.
Register HERE. I look forward to seeing you at our gathering as we continue to give meaning and gain wisdom from our losses.
Soul Medicine and Trauma Healing: Healing trauma and other wounds to psyche and soma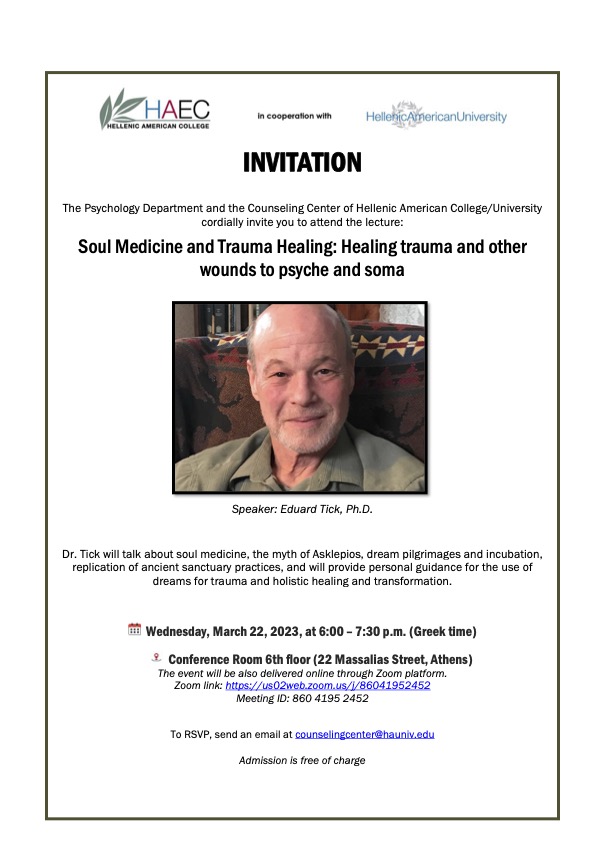 A free, live event!
Virtual AND in-person!
Wednesday, March 22
9-10:30am PT
12-1:30pm ET
6-7:30pm Greece
Register freely HERE
Double Book Release: SOUL MEDICINE & COMING HOME IN VIET NAM
A Hybrid Online & In-person Event hosted by the Unitarian Universalist Society of Amherst
Sunday, February 26, 10am PT / 1pm ET
Click this image to watch this event's replay freely on YouTube: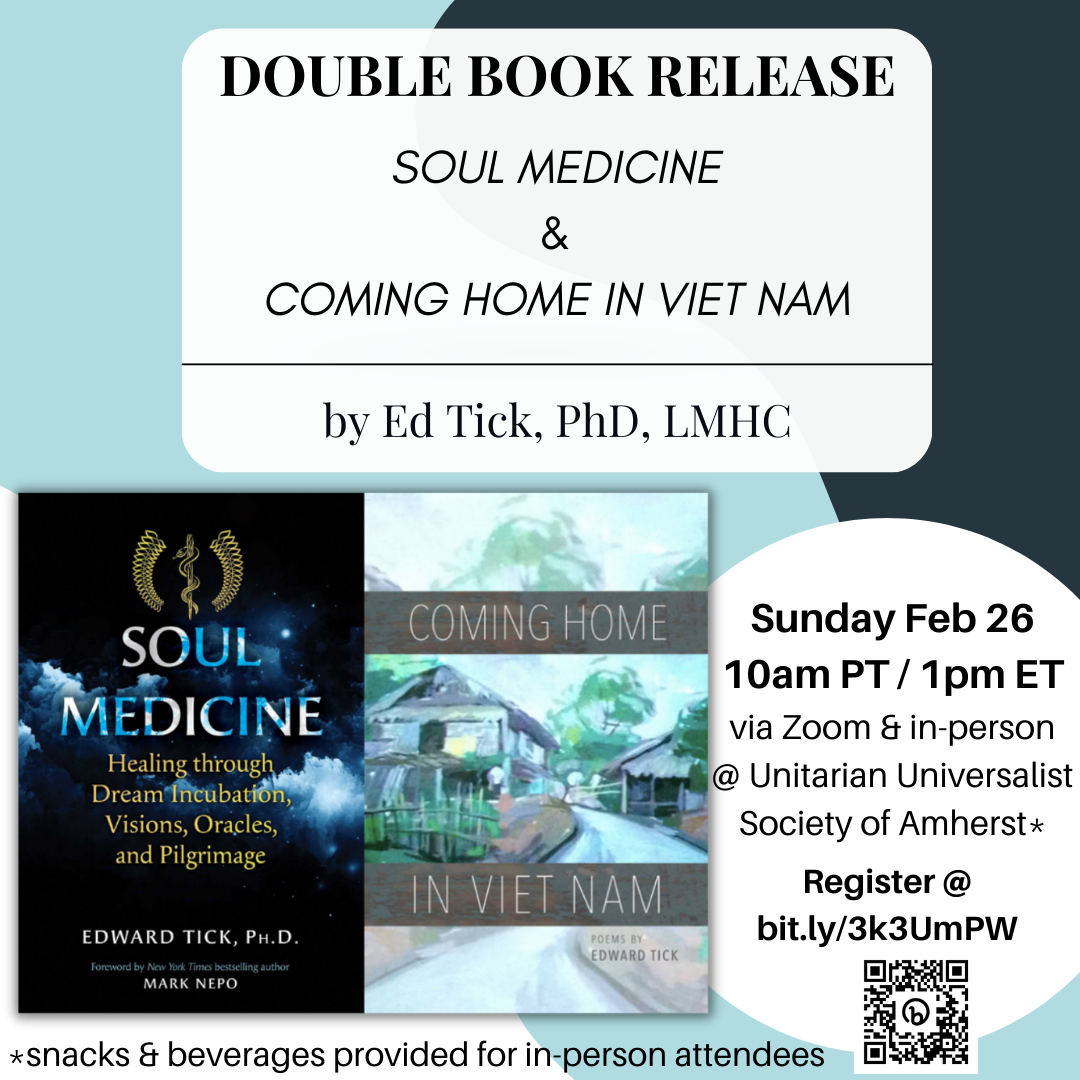 Join Ed Tick, PhD, internationally-acclaimed author, therapist and pilgrimage leader to celebrate the release of his two new books: SOUL MEDICINE and COMING HOME IN VIET NAM: a collection of poems from 20+ years of healing pilgrimages to Viet Nam.

Ed will dive into the themes of world peace & transformative healing by sharing powerful selections from his two most recent books:

Soul Medicine: Healing through Dream Incubation, Visions, Oracles and Pilgrimage
Ancient healing wisdoms come alive! Soul Medicine depicts histories and case studies of healings achieved & lives transformed using practices from the classical ancient world in psychotherapy, mentorship, and in the nearly 50 pilgrimages to Greece & Viet Nam Tick has led from 1995-2022. This book demystifies ancient healing wisdom in order to help restore soul and spirit to psychology, medicine, and transformative healing practices today.

Coming Home In Viet Nam
This moving and revelatory poetry collection documents the people, places, and experiences on these journeys. It illuminates the soul-searching and healing that occurs when Vietnamese women and children and veterans of every faction of the "American War" gather together to share storytelling and ritual, grieving, reconciliation, and atonement. These poems reveal war's aftermath for Vietnamese and Americans alike and their return to peace, healing, and belonging in the very land torn by war's horrors.
Soul Medicine & Dream Incubation: Big Dreams, Oracles & Visions in Ancient & Modern Times
A Weekend Virtual Dream Incubation & Workshop
Saturday & Sunday Feb 11 & 12; 9am-2pm ET (6-11am PT)
Click this image to register: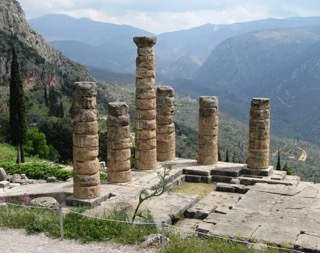 In this weekend workshop, we will share a virtual pilgrimage through Greece to study and experience the origins, principles, and practices of depth psychology as they were known in the ancient world. We will use them today for ourselves and study their use in healing. Participants will be invited & prepared to incubate overnight in their own space for big dreams and life guidance and we will share archetypal dreamwork. Together we can use ancient practices to restore soul and depth to modern healing.
Register to attend HERE.
Tending the Soul: Dream Incubation, Oracles, Visions, and Pilgrimage

A 2-Hour Live Hybrid Virtual AND In-person Program @ Smith College & on Zoom
Friday, Feb 3, 4pm PT / 7pm ET
Click this image to catch this event in replay: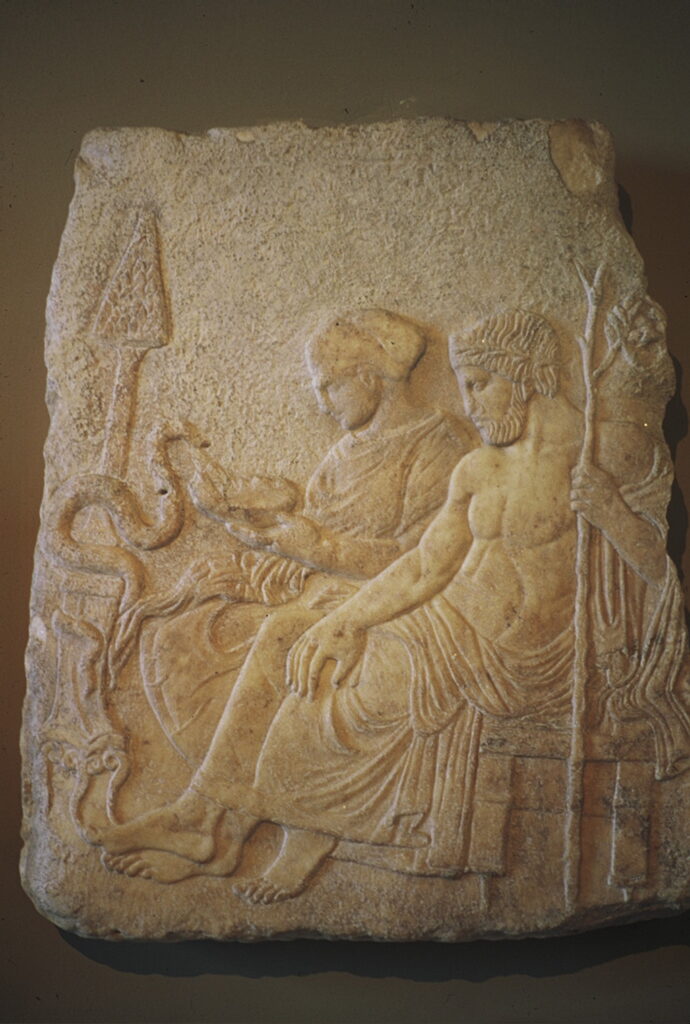 Modern Western medicine & psychology evolved from the ancient Greek tradition founded by Asklepios, god of healing. It was also formulated through the dialectal method of Socrates, philosophy, and Dionysian worship in tragic theatre. These combined into a sophisticated holistic healing system, involving incubation for "big dreams" that spread all over the Mediterranean world for more than 2,000 years, offering ritual & holistic practices that recognized that healing begins at the soul level. Join Ed for an in-depth look at these ancient Greek practices that gave birth to modern medicine & depth psychotherapy.
Register to attend HERE* (*Admission is $20 for Zoom (sliding scale payment option available).
When attending in person, admission is by donation. Your generosity is appreciated.)
Soul Medicine: The Future of Ancient Healing
A 2-Hour Live Virtual Broadcast
Tuesday, January 31, 5:30pm MT / 7:30pm ET
Click this image to catch this event's replay: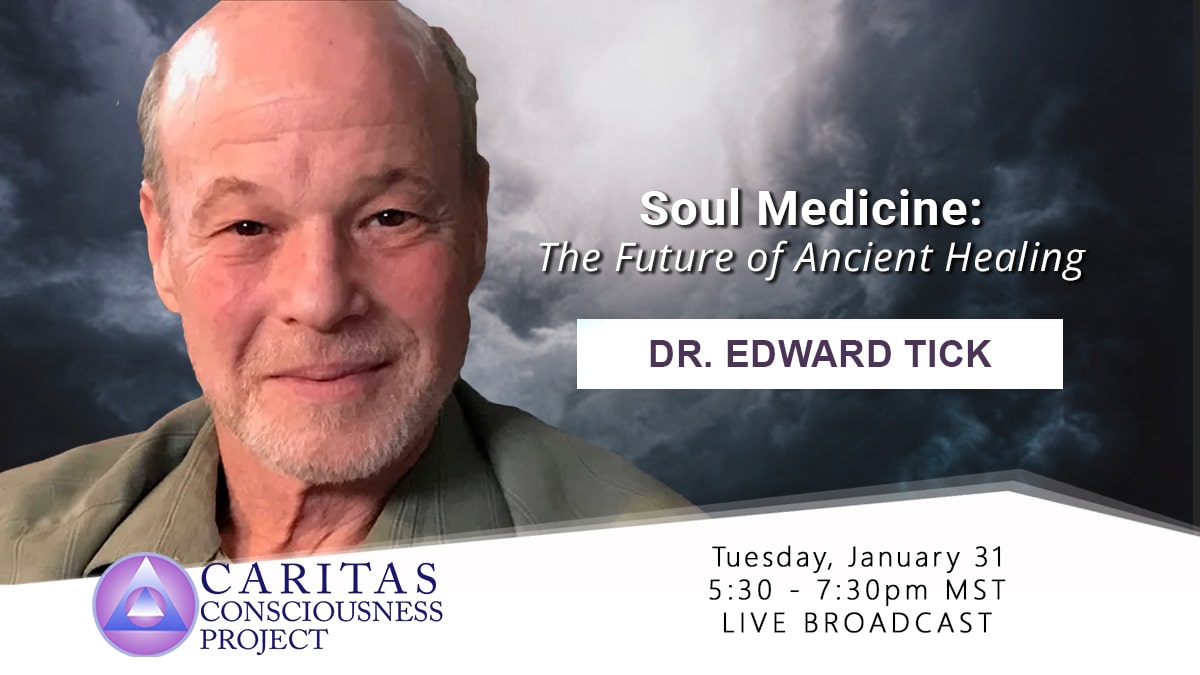 Ancient & world spiritual traditions teach that the key to healing is restoring the soul & re-aligning with the cosmic order. Healers facilitated altered states of consciousness without drugs or medicines to bring dreams, visions & oracles that healed through catharsis, identity transformation, providing life guidance, revealing prescriptions & destinies, recovering buried memories, and reconnecting to the sacred. Join us to explore these ancient practices that are the origins of medicine & psychology and the blueprints of healing today.
Register to attend HERE.
Living in Apocalypse: Jung, Orwell and End-of-the-World Mythology
A 3-Hour Online Workshop
Saturday, October 15, 6:30am PT / 9:30am ET
Click this image to catch this event in replay: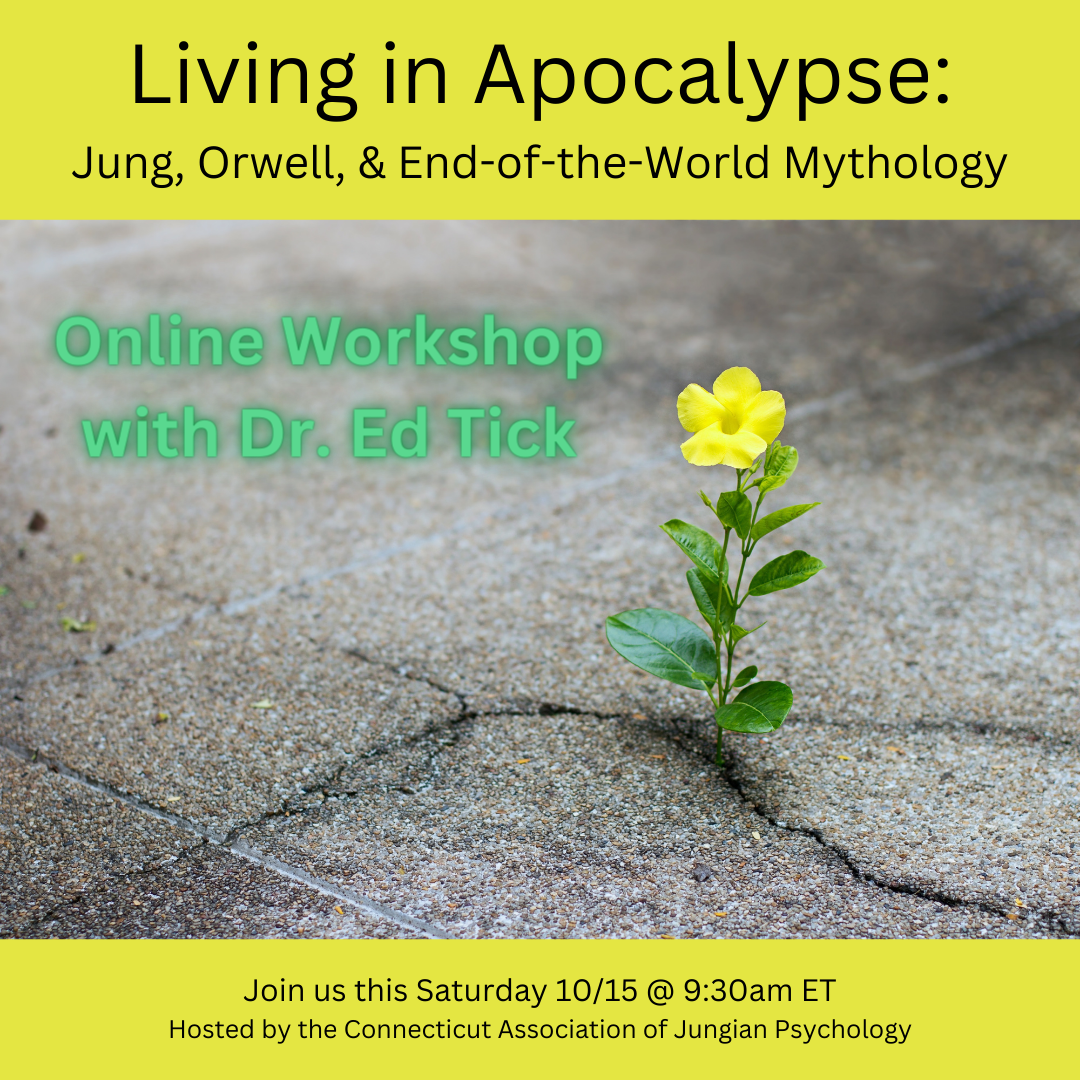 Apocalypse is a living archetypal presence with overwhelming daemonic power. It has visited humanity before, and we are in it again. It seems as if the Great Flood, the Ten Plagues, or the Horsemen of the Apocalypse are upon us. It is most difficult to understand and navigate these conditions without numbness, breakdown, or despair. But we must.
We will visit and work with both ancient and modern sources to understand and help us cope with the difficult times we are in. End-of-the-world mythologies and especially the teachings of Carl Jung and George Orwell can guide us in clearly seeing the living archetypal forces unfolding now and guiding our relations to them for preservation and soul health through the storms.
Our time together will include teachings, meditations and exercises, and group sharing. We must be in this together and give everyone voice and support.
 
Healing, Homecoming and Reconciliation In Viet Nam
Veterans for Peace Reading & Panel Discussion
A free, online event
 
*** POSTPONED, Date & Time TBA ***
 
Dr. Ed Tick has been leading annual healing journeys back to Viet Nam for veterans of that war and others since 2000. This evening we will share the depths of healing, atonement, reconciliation, and peace-making possible by returning to that land and transforming our relationships to the people, place, and our experiences there. Ed's new book, Coming Home In Viet Nam, a 20-year collection of his poetry from these journeys, has just been published. We will share stories, poems, and wisdom from these journeys that include the Vietnamese as well as American experiences. We will be joined by veterans of both American and Vietnamese forces and a war widow.

Panelists will include:
Jan Carlson-Bull, American war widow
Tran Dinh Song, ARVN Air Force, re-education camps
Michael "Magoo" Philips, US Army
Lawrence Markworth, US Navy
Healing From War and Violent Trauma:
Forgiveness, Reconciliation, Atonement, Spirituality, and Cultural Immersion
Click this image to catch this powerful event in replay: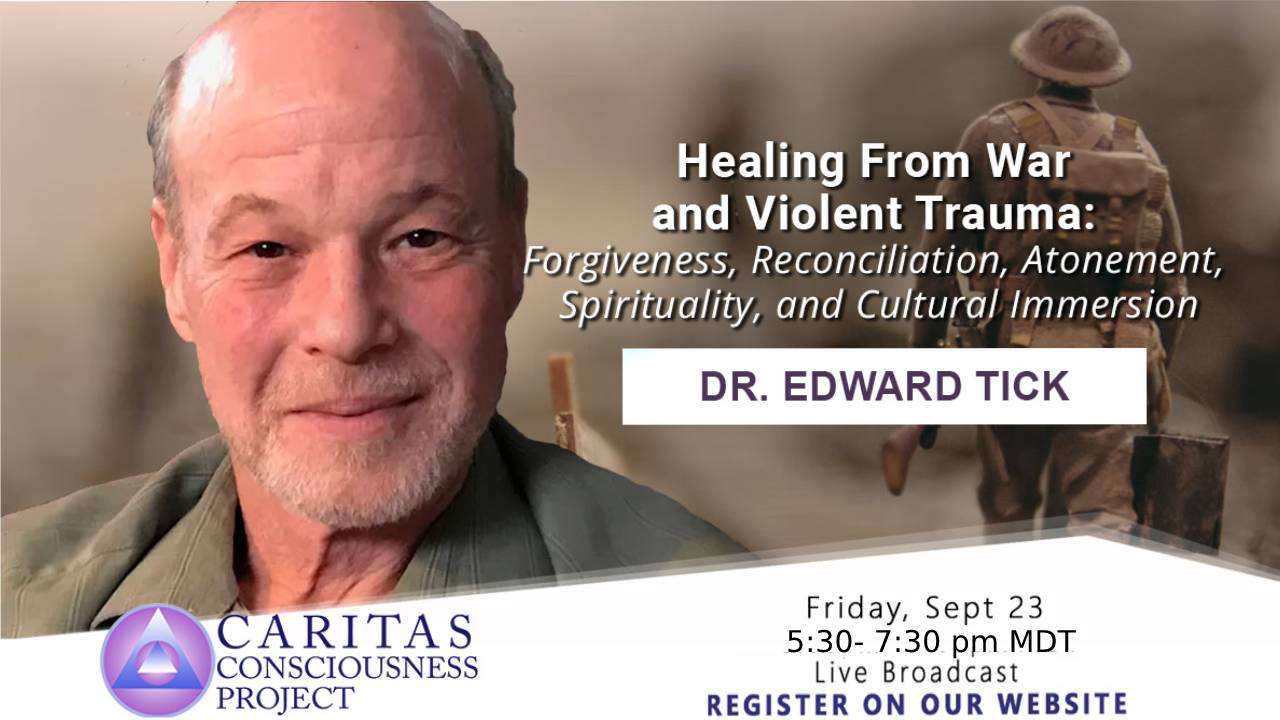 Our goal is not just to awaken the soul… Rather, our goal is to grow the soul large enough, to help it become wise and strong enough, so that it can surround the dominating wound we call trauma. The formula for healing the war-wounded soul is simple: surround trauma with soul.
Join Ed Tick, PhD to honor the healing that has touched the many war-torn souls in the U.S. and overseas. Ed has been on a 40+ year path of healing war's veterans and survivors. During the last 20 years he has guided international reconciliation journeys to Viet Nam for veterans, survivors, activists, and pilgrims. Experience this healing through Ed's new book, Coming Home In Viet Nam, the "poetry of witness" born of these journeys. Listen to poems and stories which illuminate the power to transform "foes" into "friends" and "war" into "peace," within our hearts, minds, and larger world. Learn about practicing "spirituality in community" as the direct antidote to Post Traumatic Stress Disorder. Come together to raise healing consciousness, support all survivors of war and violence, and share and honor these powerful and important practices and books documenting four decades of war healing and peace making.

Ed's presentation premieres his newly published seventh book, Coming Home In Viet Nam, a 20-year collection of his poetry documenting immersion in Vietnamese culture for war healing and reconciliation. We include an overview of Ed's four decades of transformational healing work with war survivors and how to understand PTSD and moral injury as psycho-spiritual-communal wounding that we can indeed heal through "spirituality in community."
Ancient Greek Healing Mysteries for Modern Times
A Presentation for the Ancient Greece Online Conference
Click this image to purchase this conference in replay: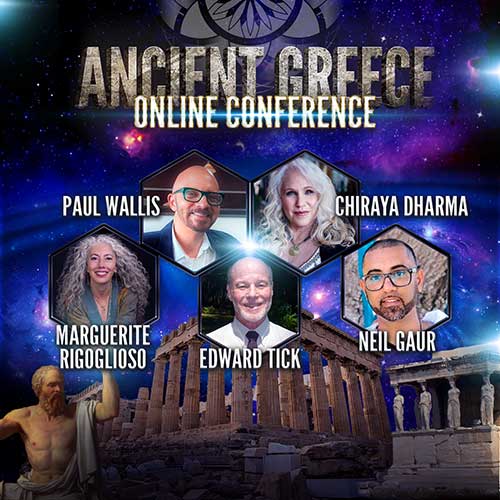 Ed shares poetry & a full-length feature presentation from his next book, "Ancient Healing Mysteries for Modern Times." Part of Portal to Ascension's Ancient Civilization series, this exclusive conference offers presentations by experts in their fields about Ancient Greece & the wisdom, hidden histories, medicines & meanings it holds for us today.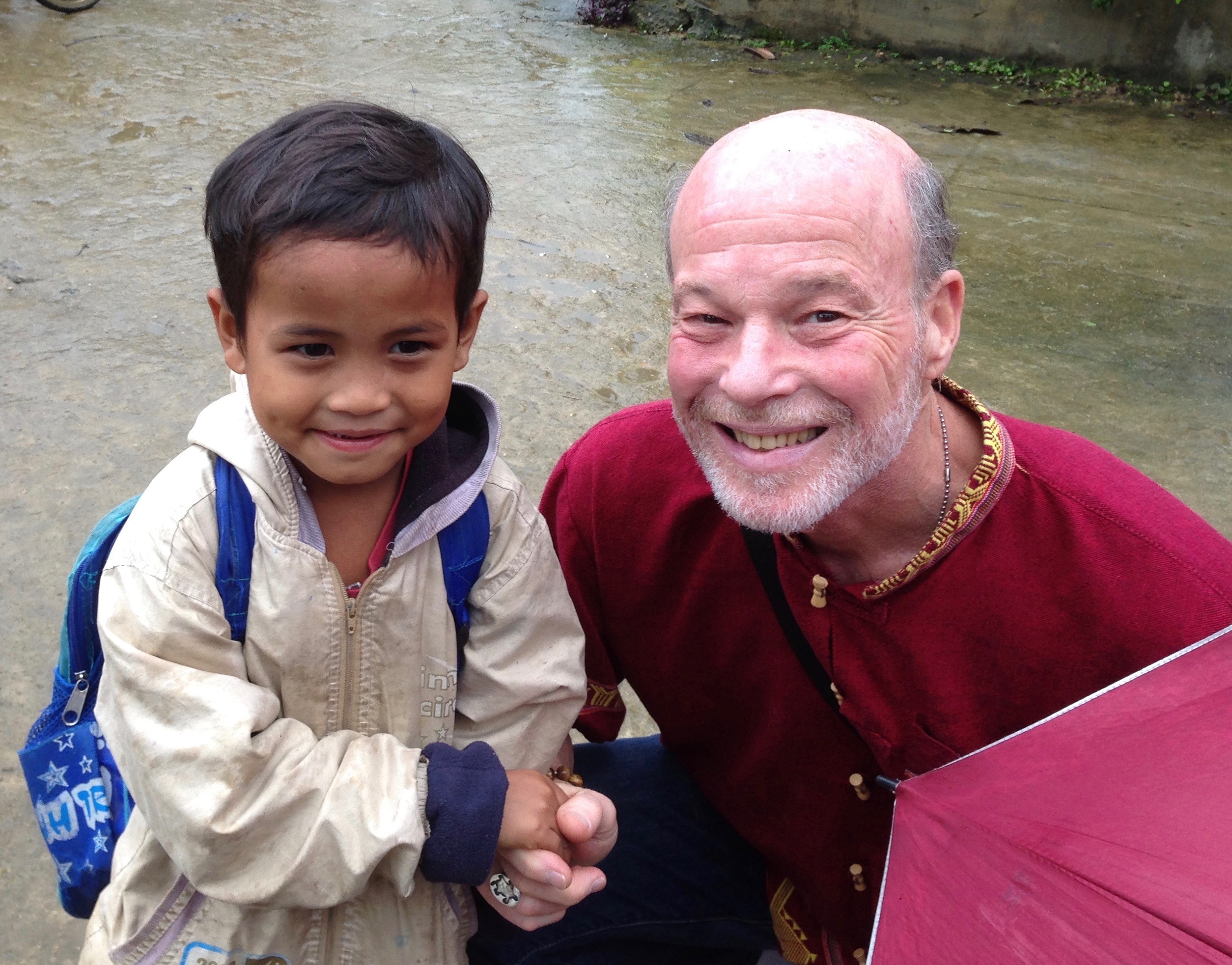 Please contact me directly for information on any of my programs or publications, to explore working together, or to book me for an event.