Events
Please contact me directly for information on any of my programs or publications, to explore working together, or to book me for an event.
Upcoming Events
 
"

Dream Healing in Ancient and Modern Practice," 23nd sacred journey to Greece, Fall 2020, dates tba. Please contact for further details.


 
 
Keynote speaker and teacher
Dream Healing, Trauma Healing, How Inspiration Speaks
International Conference on the Origins of Hypnosis and Ancient Healing
Paris, France, Sept.4-12, 2020
Website: http://hypnorigins.com/
 
Veteran Healing Retreat Facilitator, Mil-Tree, Joshua Tree, CA, Oct. 8-14, 2020. Info@mil-tree.org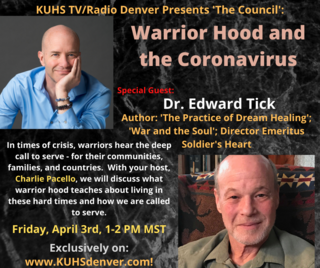 RECENT PODCASTS:
"Archetypal Dimensions of the Pandemic and Restoring the Soul" with Adam Sommer
Direct download:
https://traffic.libsyn.com/secure/exploringastrology/ed_tick_2.mp3
And site link:
https://www.holestoheavens.com/restoring-the-soul-with-edward-tick/
"Warriorhood and the Coronavirus," with Charlie Pacello, "The Council," KUHS TV/Radio Denver, www.kuhsdenver.com; "Warriorhood and the Coronavirus" on Apple Podcasts. https://podcasts.apple.com/…/the-council-with…/id1292148476….
"Trauma, Addictions and Healing," with Jeff Jones and Denise Klein on "The Family Recovery Solution:
https://thefamilyrecoverysolution.com/2020/02/26/dr-ed-tick-and-denise-klein/

"Love, Intimacy and Sexuality Among Warriors: "The Council," WKUHdenver.com, with host Charlie Pacello
https://podcasts.apple.com/us/podcast/the-council-with-charlie-pacello/id1292148476#episodeGuid=tag%3Asoundcloud%2C2010%3Atracks%2F762468064
On veterans, trauma, and what truly heals:
https://thefamilyrecoverysolution.com/2019/10/23/ed-tick/
On Asklepios and the Ancient Greek healing tradition and its uses today:
https://soundcloud.com/sommer17/the-practice-of-dream-healing-with-edward-tick
"Dream Healing in Ancient Greece,"WOMR Cape Cod, May: https://womr.org/podcast/dr-ed-tick
RECENT PUBLICATIONS BY:
"Archetype of the Apocalypse," W. Oregon Mental Health Newsletter, May 2020,
https://mailchi.mp/americanmentalhealth/womha-newsletter-mq8tb0t0he
"The Burning Heart of a Boddhisatva," Lion's Roar, June 18, 2018, https://www.lionsroar.com/thich-quang-duc-bodhisattva/
"Remembering a Warrior-Sage of the Viet Cong," Voice/Male, 22:75, Fall 2018, 8-9 & 38.
RECENT PUBLICATIONS ABOUT:
Newspaper Feature: "Dream Healing," Cape Cod Times, May: http://bit.ly/2XK8ttk
By David Brooks, The New York Times, NOV. 20, 1018
"Fighting the Spiritual Void
A soul big enough to hold the trauma inside."
https://www.nytimes.com/2018/11/19/opinion/mental-health-ptsd-community.html
NEW BOOK FORTHCOMING:
THE FUTURE OF ANCIENT HEALING: RESTORING ROOTS AND WINGS TO PSYCHOLOGY AND MEDICINE (forthcoming 2020-21)
NEW AWARD:
Willis Barnstone Translation Award, 2020, EVANSVILLE REVIEW, University of Indiana, for translation of Greek poet George Seferis